I knew what I wanted it to look like and had 5 days to make it happen. Not that anything bad would have happened if it had taken longer but since Les was going to be out of town that would give me time to work late into the nights to get it done.
The project at hand was building out the master bedroom water closet. Not a huge space, but one packed with all sorts of
challenges
. I started with a place looking pretty much like this, slanted ceiling, wonky walls and tons of potential.
The next step was the inspiration. It came from a quilt I had gotten for our bed. Very sweet and very summery with just the right vintage tones and patterns.
Then 30
ish
hours of work later with a little help from the cats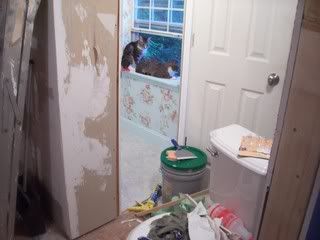 I bring to you the water closet of our new
masterbathroom
!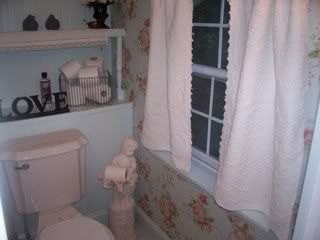 Please step inside, sorry there is not much room in here.. but it's a one
seater
as they say. Points of interest are....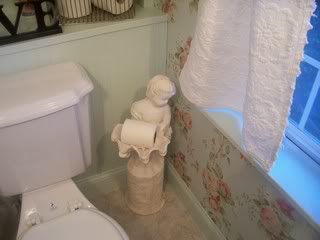 My too cute toilet paper holder, which began it's life at
HomeGoods
as a piece of garden statuary I scored it for $20 since it had a small chip out of the back. And while you are looking this way please notice the curtains made out of a white quilted vintage bedspread that I picked up at the local thrift store for a steal of a deal.
Look a bit to your left... see that door in the wall?
Can you guess what that is???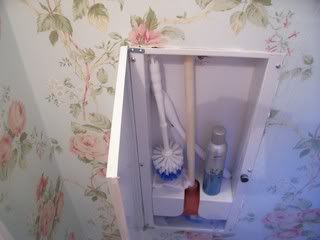 Why yes, it's a place to hide all of those things that nobody needs to see in the bathroom. The Hy-
dit
was very easy to install and I am going to put one in each of our bathrooms as soon as I get a chance. They are made as a product that goes in AFTER the drywall.. making it an easy project for anybody but the most fearful
DIYER
.
The biggest compromise of the project was the flooring. In a perfect world I would have wanted ceramic tile on the floor but given the subtle movement of our old house that would not have been an easy option. So I picked out a very high quality (thick) vinyl in 12x12 size. It went it well, looks good and will be easy to keep clean...what more can you ask?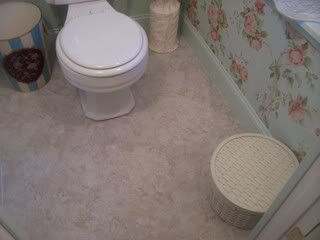 Of course the pay off in any building project is getting to put in the fun accessories. Which of course means a whirl wind shopping trip to my local Antique/junk haunts and of course
Homegoods
and
TJ
Maxx
!
The ceramic compote was won in a silent auction at a local charity event but the
Potpourri
came from
Homegoods
. The metal locker basket (seen
furtherback
) full of
TP
came from a local Antique place and I scored it for 75% off!.. Anybody who collects those knows they are getting hard to find and even harder to afford!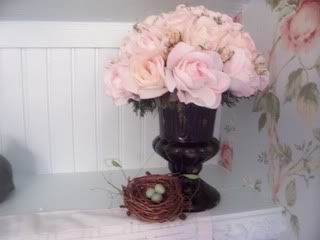 The black urn with roses was from
Tj
Maxx
and the little nest was a sweet little bit from on top of a gift I got last year.
As a last peek I leave you with a shot of the ceiling and one of the roses that is making a break for it!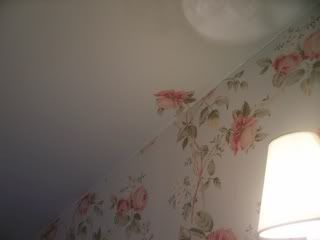 Because life should always be fun.