My commitment for the new year has been to invest my time in projects that will save me time in the long run. No matter big or little or inbetween, if it saves, time or space it's a valid project. So since I was not feeling all that well today and it was going to be the day I worked on the basement I thought that at least I could putter around in my sewing room. After a while it occured to me that my ironing board was really in the way and that most of the time I was only needing to press small crafty things and that a table top pressing surface would be ideal. So after a bit of digging and thinking I came up with a nice/free solution since being thrifty is also part of my new years pledge!
It went like this.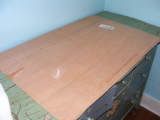 First I found a piece of board the right size to fit my table top. I could have made one the size of the whole thing but wanted room for my lamp and scissor box. In this case I used a piece of luan paneling that was left over from doing the kitchen. For those unprepared to cut wood a piece of wallboard would also work and can be cut with carpenters knife.
Next I coverd the top with a piece of left over cotton quilt batting. You could also use the section of an old wool blanket or a few layers of old flannel sheet. I covered the batting with a cut-to-size layer of old sheeting.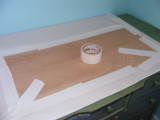 Since the luan was too thin to put a staple into I pulled the batting and the layer of white sheet around the to the back and secured them with some heavy duty white duct-tape.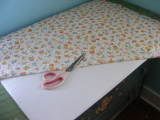 After this I took a piece of some printed vintage cotton sheeting I had and cut it to size adding about 2 inches to each side. From there I took the sheeting and sewed elastic around all the sides, sort of like I was making a large crib sheet or even better a very large rectangle shower cap! I chose this method instead of just taping it on since I wanted it to be removeable and washable.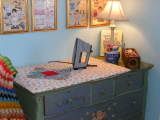 I fussed with the fitting a bit, but with a few sweet words and a few that were not so sweet it fit on just right and works like a dream.
Of course in the end it does not seem like I might get to use it much since one fellow has already found it and I am sure the rest of them will in sort order!