I swear, this cold and its pains are kicking my tail! One day I start to feel better and the next I am ready to craft myself a pine box and just crawl in. Still getting stuff done but slower with a side dish of stupid. I am now down for a weeee rest till the meds kick in to get rid of body aches so, here we are!
Ok.. stuff to share.. First A TOTAL brag... I DID THIS!!!
It's a papercutting!.. that I did by hand.. my little hands!.. While not without mistakes by a long shot I do love how it came out and since our house is called SqurrielWood it seems rather perfect, no? I have since taken the black paper cutting and mounted it to a robin's Egg Blue piece of paper and put it into a black frame.
Next a bit of yarn love from my birthday!... I got a wonderful gift certificate from a group of great folks from my church.. of course I HAD to be over on that side of town so why not just stop by for a minute???.. it took about 5 minutes and I had scooped up 4 hanks of Misty Alpaca.. yummmmmy! I have a vague feeling the lighter weight will be fingerless gloves and the heavy stuff.. well I am just not sure!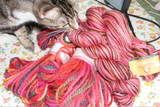 I finished up a babydress that I had started LAST summer... for a different baby!.. Sorry ( you know who you are, but take heart I have another dress going for your little darling!)...anywho I unearthed this from the bottom of the stash and finshed up the the hem and added a little yellow button to the back. It's made from a vintage sheet and I used the upper sheet double fold to make the bodice of the dress... too sweet and perfect for my neighbor's new baby.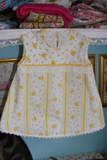 Last thing then I need to get back in the groove and get some wash spinning!.. this is one of the little fabric covered buttons that I found at the thrift a few months ago.. I embroidered the little owl... he just makes me so happy each time I see him!
Make it a good week!.. I don't think I will be around till later in the week but will check comments!